The Australian wine sector is projected to grow from A$11.3bn (US$7.9bn) in 2019 to A$12.7bn (US$8.7bn) in 2024, with a compound annual growth rate (CAGR) of 2.4 per cent, says GlobalData, a data and analytics company.
GlobalData's report, Australian Wine – Market Assessment and Forecasts to 2024, reveals that the sector is majorly driven by growth in the sparkling wine category, which is forecast to register the fastest value CAGR of 2.7% during 2019-2024. The category will be followed by still wine and fortified wine, which is expected to record CAGRs of 2.4 per cent and 1.6 per cent, respectively, during the next five years.
"Favorable economic conditions for wine production coupled with the Australian consumers' willingness to spend more on premium wine products are driving the Australian wine sector. Additionally, millennials (aged 20-34 years) form a vital consumer segment as they perceive consuming wine to be an important part of social life while spending quality time with family and friends." said Sanchi Agarwal, consumer analyst at GlobalData.
'Hypermarkets & supermarkets' was the leading distribution channel in the Australian wine sector in 2019. It was followed by food & drinks specialists.
The per capita expenditure of wine in Australia decreased from US$450.2 in 2014 to US$379.9 in 2019, which was higher than both the global level (US$73.8) and the regional level (US$32.6). However, per capita expenditure of wine in Australia is expected to reach US$385.4 in 2024.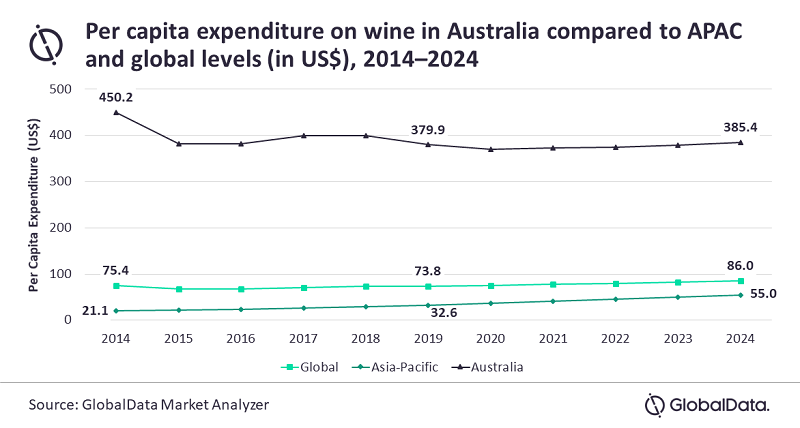 Constellation Brands, Inc, Treasury Wine Estates Vintners Limited and Pernod Ricard SA are the top three companies in the Australian wine sector. Rosemount Estate and De Bortoli were the leading brands in the Australian wine sector in volume terms in 2019.
"Australian consumers are highly discerning of wine quality and regard wine containing artificial or synthetic additives/preservatives to be harmful for health, rendering them unfit for consumption. This consumer emphasis on purity of ingredients and in wine is prompting winemakers to use organically farmed grapes in their creations for a clean label positioning," Agarwal said.