WheelieSafe Pty Ltd
WheelieSafe Pty Ltd has a bin trolley for every purpose: carrying multiple bins, single very heavy bins or bin tasks that require an electrically powered trolley. Prevent OH&S injuries and increase productivity with a WheelieSafe Bin Trolley.
Contact WheelieSafe Pty Ltd
Your Email
* indicates mandatory fields.
Products
WheelieSafe Pty Ltd
WheelieSafe Bin Trolleys are a safe, convenient, quiet and efficient method of handling single, multiple or heavy wheelie bins of varying sizes. The trolleys' rugged construction (certified to handle up to 160kgs) and powder coated finish ensure they will give years of maintenance-free service. Each trolley incorporates a unique, patented hook system that enables bins to be securely loaded with the minimum of effort. The third wheel takes the 'tilt' load avoiding potential injuries to the operator's back wrist and forearms. WheelieSafe Manual Bin Handling Trolley Benefits Failsafe braking system keeps heavy bins under control at all times especially down steep driveways, ramps and stepsUnique hooks can handle bins from any sideUsed in conjuction with a special handling bracket the WheelieSafe 'Multi' can handle up to four empty or lightly laden bins simultaneouslyHandles all bins from 140 litre to 360 litreWide track and pneumatic tyres add stability and reduce effort across soft and uneven surfaces WheelieSafe 'Electric' Trolley provides the motive power needed to move heavily laden wheelie bins The WheelieSafe 'Electric' has a third wheel to take the tilt load and two powerful electric motors to drive it Unique sling system transforms WheelieSafe Bin Trolleys into a chair mover Employs a sling system that transforms the trolley into a multifunctional trolley that has the capacity to move light weight furniture such as stackable chairsThe sling system uses a sling that passes from the hooks on the front of the trolley shafts through the gap between the seat back and the squab and back to the hooksWorks with any of the WheelieSafe manual trolleys, but is especially effective with the WheelieSafe Electric trolley as the motorised trolley eliminates the need for the operator to push or take any load on their back which is a major source of OH&S injuryAll WheelieSafe trolleys are designed with a wide track to handle up to ten or more stackable chairs with easeThe slings are available in varying lengths to accommodate various chair designs such as chairs that do not have a gap between the back and squab WheelieSafe Trolleys are the superior choice in increasing productivity and reducing OH&S accidents and injuries associated with the handling of wheelie bins.
Videos
Click thumbnail to watch video
WheelieSafe Bin Handling System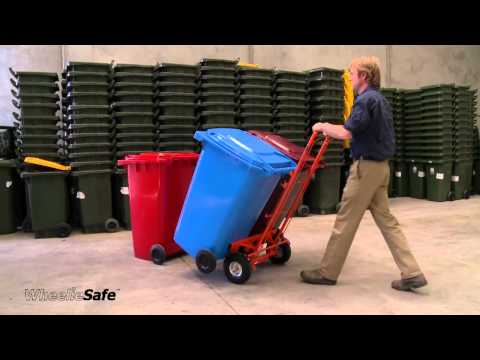 Contact WheelieSafe Pty Ltd
690A Sandy Bay Rd
Lower Sandy Bay
TAS 7005
Tel: 0417 383957
Fax: 03 6225 2622