T.E.A. Transmissions
T.E.A. Transmissions supplies mechanical engineering, power transmission and linear motion components. Proudly Australian owned and established in 1986, T.E.A. Transmissions strives to bring you the best solutions to your engineering problems. They have a huge range of products from the best suppliers around the globe, many in stock ready for immediate delivery. You can also download all products in CAD format to streamline the design process. Have ...
+ View more
Contact T.E.A. Transmissions
Your Email
* indicates mandatory fields.
Products
T.E.A. Transmissions
When your lifting application demands high precision, loads and reliability T.E.A. Transmissions can work with you to deliver the ideal Screw Jack solution. Our comprehensive Zimm range of European designed and manufactured Screw Jacks are industry leading.The ZIMM Screw Jack range is a modular system of components that can be combined to deliver you a complete lifting and handling solution.The ZIMM family business located in Austria, Europe focuses strongly on quality, outstanding products and is an ideal solution wherever precise lifting, lowering, swivelling and positioning of loads is required. Utilizing the comprehensive ZIMM Screw Jack Modular Design System, loads of up to 100 tons can be moved precisely. The modular-designed ZIMM program is designed in such a way that the right lifting components with numerous accessories can be assembled in a fast and straightforward manner. 13 sizes in fast and slow gear ratios from 2 kN to 1000 kN, trapezoidal or ball screw spindles, motors, couplings and more are available to suit your application. In order to make this compilation even easier, ZIMM has developed the product configurator.The ZIMM Screw Jack range is a modular system of components that can be combined to deliver you a complete lifting and handling solution.Unique Product Configurator - This online tool enables efficient design of your screw jack solution whereby you can model your assembly and receive 3D data fast. https://zimmscrewjacks.com/cad-product-configurator/Features Corrosion protected housingsEffective cooling with ribbed designEasily attached pivot bearingsFour mounting optionslubrication systems: for worm gears and spindleSealed gearboxHigh performance hardened and ground worm shaftSimple installationTwo versions: "S" standing spindle, "R" rotating spindleAvailable with Trapezoidal Spindle or Ball ScrewWhy ZIMM Screw JacksQuality and Experience40 Years of delivering optimal lifting solutions combined with in house, state of the art measuring equipment and continuous inspection of the products to ISO 9001:2015 standards means quality you can depend on.Research and DevelopmentInnovation and product development are cornerstones of the ZIMM Screw Jack philosophy. In addition to in house R&D Zimm also collaborates with external research institutions and customers to continually exceed industry standards and customer expectations.Availability and On-Time DeliveryDespite offering a wide range of components Zimm offer the most commonly used products from stock and retain a flexible production schedule for on-demand items. T.E.A. Transmissions can offer a number of freight and delivery options to get your system to Australia, and to you in the most efficient and cost effective manner.For product details and further information click here
T.E.A. Transmissions
T.E.A. Transmissions is your one stop supplier for all types of gears, pinions, racks, spindle and spline. The range is available in many sizes and stock is ready for delivery. Modules 1 to 8 Steel / Stainless Steel / Plastic Precision and Low Cost models Racks to suit Worm Gear Sets Bevel Gears Helical Rack and GearsFour great ranges of spur gears to select from:T.E.A. Spur Gears Low Cost for applications where price is the main consideration Material: C1045 - heat treatable for higher performance Modules: 1 - 8 (larger sizes are available on request) Most sizes in stockSNB Spur Gears For applications where precision is more important Material: ETG100 (special high strength steel) for smaller tooth numbers and smaller modules sizes and CK45 steel for all other sizes Modules: 1 to 8 (larger sizes are available on request) Many sizes in stockSNE Stainless Steel Spur Gears Material: 303 stainless steel Modules 1 - 4 Short delivery timeSH Spur Gears with minimal noise Material: Hostaform C - plastic Modules: 0.5 to 3 No lubrication needed Quiet running Inexpensive Most sizes in stock Custom gears are available according to your drawings in steel or stainless steel with small quantities being ok.Brass and steel spur gears available on request: Brass modules 0.3 - 1 - grade 8d (DIN 58405) - straight tooth Steel module 0.5, 0.7 - milled straight teeth Delrin modules 0.5 - 3 - ideal for temperatures up to 100ºC and intermittent up to 160ºC Steel hardened, ground, crowned - modules 1 - 8T.E.A. Transmissions also supplies a large range of specialty and standard engineering and transmissions components from stock drive parts including steel/plastic Spur Gears Modules 0.5-8, steel/plastic Bevel Gear Sets, Universal Joints, Rod Ends, Trapezoidal Spindle, Spline Shafts and Precision Round Shafts. As well as custom Linear Motion Systems, Linear Actuators, Screw Jacks and Ball Screws.
Videos
Click thumbnail to watch video
Heavy Duty Screw Jack Systems Australia - ZIMM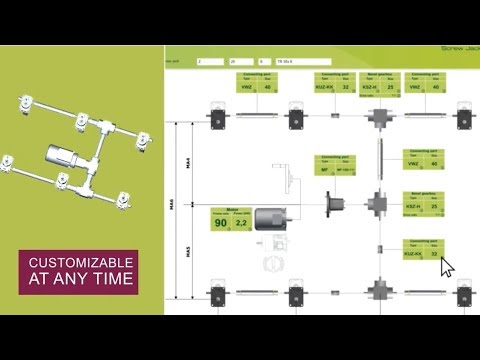 Contact T.E.A. Transmissions
Tahiti Rd
Tiaro
QLD 4650
Tel: 07 41292533
Fax: 07 4129 2437
T.E.A. Transmissions Brands
DualVee
Elesa
Hepco
Hiwin
Huco
Joyce Dayton
Ketterer
Lanker
Linak
Linrol
Neckar
Nozag
Osborn
Winkel
Zimm