Prolift Solutions Pty Ltd
Prolift Solutions Pty Ltd market a comprehensive range of materials handling and lifting equipment. Their range includes Jib Cranes, Gantry Cranes, Monorail Cranes, Hoists and Winches, Forklift Attachments.
Contact Prolift Solutions Pty Ltd
Your Email
* indicates mandatory fields.
Products
Prolift Solutions Pty Ltd
Prolift Solutions provide a wide range of hydraulics, non hydraulic and quick hitch forklift attachments.Hydraulic forklift attachments Dirt buckets Bulk bin tippers Grab attachments Drum rotators 180 degree carriage rotatorNon hydraulic forklift attachments Fork tines Roll prongs Roller forks Safety cages Carriage bars Fork spreaders Jib attachments Container ramps Wheelie bin emptiers Dirt buckets Tarp spreader for truck tarps Drum lifters and rotators Extension slippers for forklift tinesQuickhitch forklift attachments Quickhitch jibs Quickhitch cages Universal carriage Skid steer attachments Quickhitch floating carriagesProlift Solutions combine over 50 years experience in the materials handling industry to provide the best range of the highest quality products at great prices.
Prolift Solutions Pty Ltd
Need a LIFT?Prolift has your crane, hoist and lifting covered, with their extensive range of quality cranes, both large and small to suit most lifting requirements. Selection of Jib CranesJib Cranes with hoist provides a simple efficient means for lifting, with crane capacity from 50kg up to 4000kg. Supplied in kit systems with lifting hoists for ease of installation, specially tailored to suit your needs. A variety of crane finish treatments also available. Cranes built to Australian Standard AS1418.Additional Options for Jib Cranes:Air hoistChain blockSurface treatmentsElectric chain hoistManual girder trolleyMotorised slew driveMotorised girder trolleyGantry Cranes Made EasyMobile gantry cranes are versatile and maneuverable, move the crane where you need a lift. These mobile cranes are available in kit form and easy to assemble, ranging from 500kg to 4000kg with spans up to 6m. Cranes are manufactured to your requirements. Cranes built to Australian Standard AS1418.Heavy Duty Davit CranesDavit Cranes designed for heavy duty lifting of materials offering a robust, weather resistant construction suitable for varies lifting applications used extensively throughout the industry. The standard davit crane incorporates a manual brake winch mounted in an easy to reach position with a lift capacity up to 500kg. Slew rotation of 360 degrees with a square base plate arrangement for anchoring to a suitable structure. Davit cranes are available in a variety of finish treatments. Cranes built to Australian Standard AS1418.Optional Accessories for Davit Cranes:Slew lockElectric winchSurface treatmentsElectric hoist (on lifting eye models)For help selecting a suitable crane, visit their website or make an enquiry now.
Prolift Solutions Pty Ltd
Lift With QualityProlift has your lifting requirements covered, with their vast range of quality lifting devices ranging from cranes, hoists, winches, lifting and shifting equipment, forklift attachments, drum handling equipment, height safety and personal protection. Need a Crane?Prolift has your crane needs covered! From workshop cranes including slewing jib cranes to mobile type gantry cranes and mobile floor cranes including purpose built davit cranes, they have a crane to suit your lifting needs. Crane attachmentsMake your job easier with crane attachments to suit your lifting needs. Prolift has concrete kibbles including grout kibbles along with crane spreader beams and jib attachments. Pallet hooks to lift those heavy pallets or a crane work platform cage to reach those difficult to reach areas safely, simply attach to an overhead crane or lift by forklift, crane goods cages also available. Hoist Equipment Vertically lift your loads the easy way using a hoist. Select from a wide range of hoists including 240volt or 415volt electric chain hoists along with pneumatic air hoists suited to your required lift height. Lifting can also be achieved using a manual chain block or lever block, contact Prolift to discuss your lifting needs. WINCH with easePull your materials the easy way using a winch from Prolift. Ranging from manual hand brake winches used extensively throughout industry to electric winches with a variety of power supply options. Winches are used in variety of pulling applications from: Boat winches 4WD vehicle winches Capstan winchesWinch power supply options: 12 or 24 volt electric 240 volt electric 415 volt electric HydraulicLifting and Shifting EquipmentProlift's range of lifting and shifting equipment can help make your workplace more efficient and assist in keeping staff free of worrying back injuries. Move your heavy loads using either load rollers or load skates with an impressive 40Tonne loading capacity. Lift and move your heavy loads using mobile scissor lift trolleys able to lift loads up to 800kg. Drum Handling EquipmentHandle your drum lifting safely with drum lifting attachments available from Prolift. Overhead drum lifting using a suitable attachment with options for drum rotation and drum storage attachments for safe drum storage onto drum racking shelf. Pour liquids safely using a drum decanting cradle suitable for 25 litre and 205 litre drums using safepour, drums are lifted into position using overhead drum lifting attachments. Fork Lift AttachmentsExtend the use and value of your forklift with the extensive range of forklift attachments available through Prolift. High quality workmanship and finish ensure that their range is the best available. Can't get your forklift into a shipping container? Their container ramps are placed into position using your forklift. Safety cages and work platforms for forklifts, get those hard to reach jobs done safely. Full range of forklift jib attachments and drum lifting forklift attachments, lift heavy loads safely.No matter what your requirements, Prolift can help you find the equipment appropriate for the job. Please visit the Prolift website for more information.
Videos
Click thumbnail to watch video
750kg Electric Hydraulic Ute Crane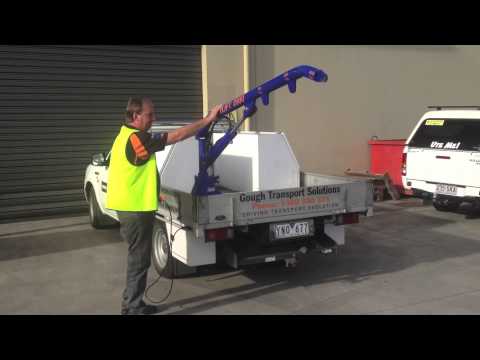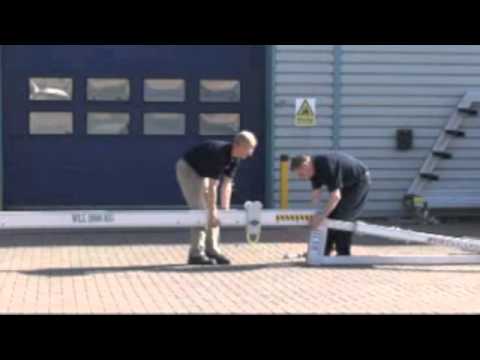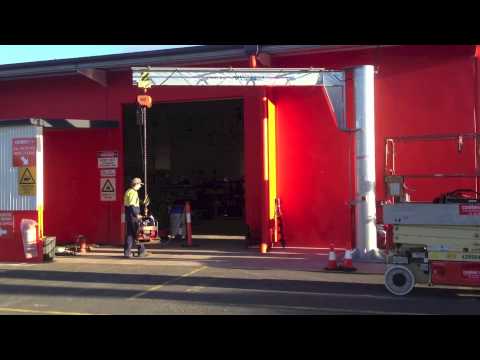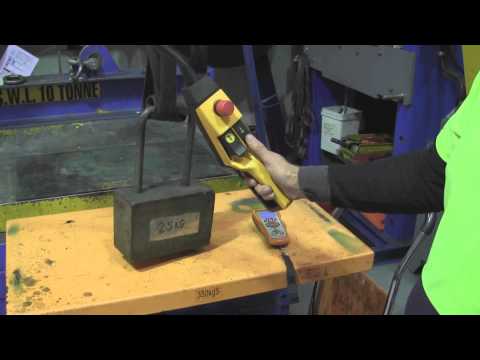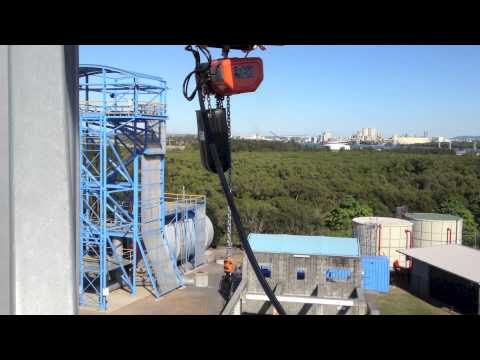 Contact Prolift Solutions Pty Ltd
PO Box 5725
Mermaid Waters
QLD 4218