PT Hydraulics Australia
PT Hydraulics Australia provide a range of solutions to Australian Industry. We supply market leading industrial hydraulics and our product range extends to include the emergency and safety industries, with hydraulic rescue tools such as hydraulic cutters, spreaders and rams from Lukas, as well as High and Low Pressure lifting airbags, and a full range of rescue accessories.

Contact PT Hydraulics Australia
Your Email
* indicates mandatory fields.
Products
PT Hydraulics Australia
PT Rescue is very excited to announce that we are now the Exclusive Distributor for the full range of AWG Fire Products & Alco Monitors in Australia & New Zealand. This will give the local market access to one of Europe's leading manufacturers of Fire Products, all backed by PT Rescue's product expertise, service capability and stockholding. We look forward to introducing these products and sharing more information in the coming months. In the meantime, below is a very brief look at some of the huge range of products on offer:CouplingsA full range of Storz, BSP Thread, Multilug System, British Standard, French Standard, North American Standard, Russian Standard, Italian Standard, Spanish Standard, Finnish Standard, Norwegian Standard and Swedish Standard. FittingsStandpipes, Suction Strainers, Ejector Pumps, Hoses, Siameses, Dividers, Pressure Relief Valves and Inductors. Nozzles & BranchpipesSelect Flow Nozzles, Fixed Flow Nozzles, Automatic Nozzles, Pistol Grip Nozzles, Combi Nozzles, Special Application MonitorsA Comprehensive Modular Product Portfolio allows full customisation to your exact needs.Pump Accessories Pressure Valves, Ball Valves, Piston Intake Valves & Gate Valves.Preventative Fire ProtectionLanding Valves, Pressure Reducer Couplings and Building Supply Fittings.
PT Hydraulics Australia
The BOSS Hydraulic cylinder line was developed by PT Hydraulics Australia to provide a high quality replacement for most brands of cylinders at a lower cost to OEM's, resellers and repair shops. We pride ourselves on supplying high quality products that are backed by the service and support our customers deserve. On the back of ongoing success, the BOSS Hydraulic cylinder line has expanded into a large selection of many different welded cylinders - our most innovative BOSS "AGI" model features dual UN O-ring ports on both ends of the cylinder. All BOSS Hydraulic cylinders are designed and engineered by PT Hydraulics, tested before dispatch and backed by a One Year Manufacturer's Warranty.Cylinders are available in a range of strokes in 1.5", 2", 2.5", 3", 3.5" and 4" Bore and possess the following feature and benefits -Dual Ported UN-Oring threads - This great innovation provides you with 2 ports at the rod end and 2 ports at the rear clevis end of the cylinder. No more stocking both A & B ported cylinders.Hard Chrome Plated Piston Rod - AISI K1045 Material.CDSM Honed Barrel.Rod Gland manufactured from ASTM A536 ductile iron.Steel 2 Piece Piston - O-ring seal to rod gives no leak situation.Rod End Clevis - Cast iron. Rear clevis mount - Cast Steel.Cylinders supplied with port sealing plugs & shipped in plastic bag - this prevents dirt ingress during transportation & storage.All cylinders are 100% pre pressure tested. Providing the customer full confidence in purchase.
PT Hydraulics Australia
PT Rescue has expanded their product offering to include the new WASP Stability Protection Unit.The WASP (Warning Alarm for Stability Protection) is an innovative, portable, light weight and simple to use monitoring system suitable for various emergency scenarios. Set up takes just seconds and it can deployed in a range of positions due to its various attachment capabilities. Once set up, it provides a visual and audible early warning detection system for any movement or vibration that could potentially put rescue personnel and/or the public in danger. Developed in the UK by experienced fire fighters in conjunction with DATUM, a structural monitoring specialist company, the WASP is designed to meet the rigorous and precise technical specifications for use in the harshest of rescue environments. Designed to detect the slightest movement, the WASP is ideal for use in collapsed buildings and structures, structural fires, road traffic accidents and collapsed trenches. Structural and mechanical failures and disturbances can also be monitored using the WASP.
Videos
Click thumbnail to watch video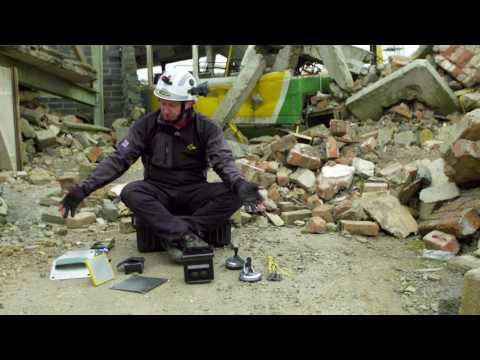 Contact PT Hydraulics Australia
19 Ricketts Rd
Mount Waverley
VIC 3149
Tel: 03 95628800
Fax: 03 9562 8080
PT Hydraulics Australia Brands
Airshore
Argo
ATO Hydraulic Power
FAI Filtri
GLOBE
HYTOS
Lukas
MADAN
Mini Press
Mini Pro
Petrogen
Power Team
PT Hydraulics
SDH Hydraulic
Stabfast
Stone
Turtle Plastics
Vetter
Youli