Hardox Wearparts
Hardox Wearparts operates in more than 40 countries supplying thousands of wear products for the mining, construction, agriculture and fishing sectors.

Hardox Wearparts provide a customised service suitable for buckets, tippers, mixers, dozers, shovels, hopers, feeders, shredders, dredges, pavers, screws, balers, drums, harvesters and related machinery and equipment.
Contact Hardox Wearparts
Your Email
* indicates mandatory fields.
Products
Hardox Wearparts
Hardox is the global reference in wear resistant steel plate. Hardox Wearparts goes beyond the steel to deliver value-added services via an extensive network of Hardox-certified repair shops.Hardox Wearparts guarantees that your replacement part or repair is made with genuine Hardox wear plateWith local Hardox Wearparts workshops, you will get dedicated experts using state-of-the-art techniques and processes certified by SSAB, the manufacturer of Hardox. Guarantee prompt service, for planned or unplanned repairs.Hardox Wearparts wear resistant steel plates are used in multiple industry products BucketsTippersCrushersDozersShovelsChutesHoppersFeedersDredgersShreddersHarvesters and many moreHardox Wearparts serves all industries from Mining, Quarries and Sand, Construction, Cement and Concrete, Coal and Energy, Metal Works, Recycling, Forestry and Fishing: there's no more effective way to master your uptime.
Hardox Wearparts
Hardox Wearparts Wear Liners are manufactured from Swedish produced Hardox steel, and proven in the toughest conditions.Designed for use in Mining, Quarrying and Bulk Handling MaterialHardox Wearparts Wear Liners eliminate the transfer of abrasive materials as it takes a toll on plant equipment, and can result in costly downtime for maintenance and repair.Wear Liners are manufactured from a wide range of Hardox steel to suit a wide range of application and requirementsHardox Wearpart Wear Liners are manufactured from a wide range of Hardox steels, from the toughest Hardox HiTuf through to the hardest Hardox Extreme in a range of thicknesses and fastening options to suit specific application and requirements.Optimal wear liner solution for:ChutesHoppersCrushersConveyorsFeedersSortersScreensSkips and BinsHardox Wearparts offer extensive knowledge of wear processes and steel properties for optimal wear liner solution for maximum uptime and minimum expense.
Hardox Wearparts
BluPoint rebuilt ground engaging tools from Hardox Wearparts transform the worn teeth from your current G.E.T. supplier into high quality, heavy duty mining teeth designed for the toughest conditions.Hardox wear plate ensures a more predictable wear lifeUsing a patented design and process, the rebuilt ground engaging tools utilize market leading Hardox wear plate in their construction for a consistent through-hardness resulting in a more predictable wear life. And due to the rebuild process, BluPoint rebuilt G.E.T. can be installed on your current supplier's adaptors with no modifications required. BluPoint rebuilt ground engaging tools are available from your local Hardox ® Wearparts centreIncreased G.E.T. life and decreased G.E.T. costs BluPoint offers the same or increased service life at lower costsPatented rebuild process includes strict fabrication guidelines and jigs that ensure consistency and qualityLocal production with rapid turnaround Lean, local production means that BluPoint Rebuilt G.E.T. can ensure you never again run out of stockAbility for worn-out teeth to be turned around in a short time frame if requiredLean supply chain / security of stock BluPoint Rebuilt G.E.T. can provide backup supply, enabling users to concentrate their new G.E.T. purchases from one single manufacturerLeverage the benefits of single adaptor / fixing system types and supply agreements without the fear of running out of teeth and associated productivity lossesCustomisation to meet your operational challenges The unique patented design and construction of BluPoint Rebuilt G.E.T. ensures easy customisation of your rebuilt G.E.T. to meet your requirementsA combination of field trials across mine sites in Western Australia and additional laboratory testing have demonstrated that BluPoint rebuilt ground engaging tools match or exceed the service life of their cast equivalents in the toughest of digging conditions.
Videos
Click thumbnail to watch video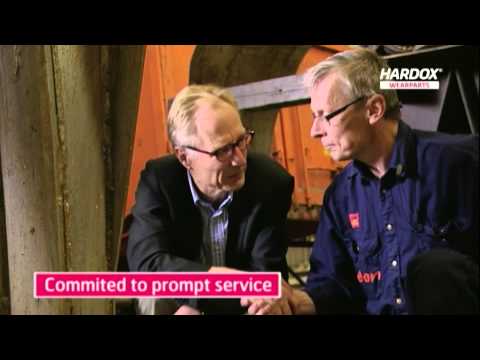 Contact Hardox Wearparts
Suite 5, 108 Johnston Street
Collingwood
VIC 3066