Era Polymers
Owned and operated by Industrial chemists
Era Polymers
have been manufacturing polyurethanes since 1986.
Over 3 decades they have accumulated a wealth of experience in the polyurethane industry and are recognised leaders in the global polyurethane elastomer market, manufacturing over 700 formulations.
Era Polymers
have one of the most diverse ranges of cast elastomer ...
+ View more
Contact Era Polymers
Your Email
* indicates mandatory fields.
Products
Era Polymers
Era Polymers provide a range of polyurethane foams that play a vital role in industries ranging from refrigeration to automotive.Polyurethane Foams offer outstanding durability and high abrasion resistancePolyurethane Foams have the following advantages over conventional materials (wood, rubbers and plastics) Excellent load-bearing weight capability Excellent resistance to oil, grease and chemicals Formulations available in a wide range of resilience'sPolyurethane Foams can be categorised by the following: Rigid: Excellent for different thermal insulation properties. Flexible: Extremely comfortable. Integral Skin: Can be easily moulded for applications ranging from soft to hard. Microcellular: Used in applications which require a combination of comfort and durability. Polyurethane Foams are versatile and suitable for a variety of applications, including the following Automotive: Steering wheels, dashboards, seating, roof linings, rear view mirrors, underlay, sound deadening, sun visors, roof insulation, jounce bumpers, filters. Insulation: Refrigeration, truck body panels, pipe sections, ducts, roofs, buildings, vibrational sound proofing, hot water tanks. Void Filling: Buoyancy, structural, packaging, horticultural, boat floatation.Era Polymers offers a full range of non-ODP (Ozone Depleting Potential) foams which are Ozone friendly, CFC and HCFC free.
Era Polymers
Polyurethane Elastomers are extremely versatile and can offer a superior cost advantage, performance and a real alternative where plastics, metals, woods and ceramics have been used in the past.Polyurethane Elastomers offer increased abrasion resistance and durabilityPolyurethane Elastomers have the following advantages over conventional materials; Better wear, corrosion and toughness on impact and abrasion resistance Higher durability to withstand impact and shock loading Light weight Higher hardness Resistant to oils, ozone, radiation, mould and fungi Reduced noise pollution in the workplace Pourable and castable allowing cheaper tooling and fabrication of complicated piecesPolyurethane Elastomers are designed for demanding applications, including the following Automotive: Grommets, bearings, bushes and flexible couplings. Building and Construction: Moulds for concrete, gate seals, concrete pump parts and waterproofing. Coated fabrics: Conveyor belts, fuel storage tanks, power transmission belts. Electrical: Encapsulation, insulation, potting, cable joining. Engineered components: Gears, sprockets, wire guides, rail draft gear, stripper plates, press brake pads, textile yarn guides, cutting boards, business machine belts, couplings. Mining: Bucket liners, conveyor rollers, scraper blades, floatation cell impellors, pump linings, grading screens, lined pipes, cross-over pads. Oil, Chemical and Marine: Bushings, bearings, hydrocyclones, buoys, pipeline pigs and scrapers, fenders, valve seats. Rollers: Board rollers, nip rollers, metal forming, printing, conveyor, can coating, paper mill. Seals and Gaskets: Pneumatic and oil seals, diaphragms. Wheel and Tyres: Fork-lift tyres, heavy duty castor wheels, escalator wheels, roller skate wheels, roller blade wheels.
Videos
Click thumbnail to watch video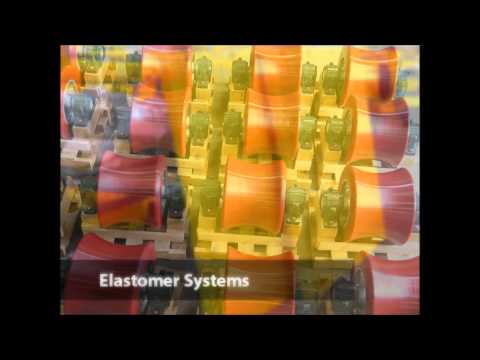 Contact Era Polymers
2 - 4 Green Street
Banksmeadow
NSW 2019
Tel: 02 96663788
Fax: 02 9666 4805
Era Polymers Brands
Cannon
Dow Corning
Ecofoam
ERA
ERA Polymers
Eracast
Eracoat
Erakote
Erapol
Eraspray
Erathane
Fecken Kirfel
Fomo
Graco
Greenlink
Handi-Foam
Handi-Seal
Handi-Stick
Irathane Futura
Klingstone
Polytec EMC
Stepan