EagleBurgmann Australasia
EagleBurgmann produce economical and easy to use sealing solutions to fulfil environmental protection and safety. EagleBurgmann Australasia offer Mechanical Seals, Gas Lubricated Mechanical Seals, Seal Supply Systems, Magnetic Couplings, Stuffing Box Packings, Static Seals and Rubber – Fabric - Metal Expansion Joints.

Contact EagleBurgmann Australasia
Your Email
* indicates mandatory fields.
Products
EagleBurgmann Australasia
EagleBurgmann manufacture an extensive selection of high-quality compression packings and gaskets used to provide a compression seal for pumps and valves. Compression packings and gaskets are designed to enhance and extend service life of your valves and pumps. Araflon 6426 Araflon 6426, one of the many packings from EagleBurgmann, is a diagonally braided packing of high quality smooth synthetic, partly pre-impregnated endless aramid fibres (Kevlar) with multiple PTFE impregnation and lubricant. Araflon 6426 offers great quality and high strength which allows for a long service life. Furthermore Araflon 6426 is extremely stable and hard wearing, ensures high cleanliness and offers excellent resistance to abrasive media. Buratex B 4001 Buratex B 4001 is an easy handling cotton packing with black grease impregnation. This packing is an ideal economical general purpose pump packing which offers trouble free pre-cutting and forming. Buratex B 4001 flexible cotton packings are manufactured from selected wear-resistant yarns which are pre-impregnated and twisted. A very intensive secondary impregnation combined with braided construction results in a very elastic and soft packing which is resistant to rot and retains softness and elasticity. Manhole Gasket Manhole Gasket - HP 6365/HP is a classic, high density seal made of rubber with woven mesh. Therefore it is a temperature-, corrosion- and chemical resistant, high duty mesh with elastomer coating. This material is especially designed to meet the high requirements of "TRD 401 -Test class D". HP 6365/HP Manhole Gasket offers easy installation and is an ideal adaption to existing cover lids. Packing Extractor 9611 This packing extractor is a robust, handy, special tool for packing removal from pumps, agitators, valves and more. The flexible, torque-resistant shaft enables secure and complete removal of the old packing rings even in difficult-to-reach installations. Proven by thousands of tolls in use, it reduces the time to replace packings drastically. This packing extractor prevents damage to shaft when used correctly while replacing the packing.
EagleBurgmann Australasia
EagleBurgmann Australasia supply a range of mechanical seals used to prevent leakage, contain pressure and exclude contamination. Mechanical Seals from EagleBurgmann are used in industries including chemical, pharmaceutical, food processing, energy, water, mining and more.Mechanical Seals for Pumps EagleBurgmann offers a complete range of liquid and gas lubricated pump shaft seals including standard and engineered seals in single and multi-seal versions. EagleBurgmann also offer a complete range of solutions for all API 682 categories and arrangements. The portfolio includes a broad selection of material and surface technologies such as DiamondFaces® coatings. Centrifugal pumps Positive displacement pumps High performance pumps Multi-phase and slurry pumps Circulation pumps Hydraulic pumpsMechanical Seals for Agitators Sealing solutions for normal and sterile applications. The design and selection of materials ensure that the seals are rugged enough to deliver outstanding cost and engineering performance in everyday applications. Agitators Mixers Dryers Kneaders Reactors Separators FiltersMechanical Seals for Compressors A complete range of products for process gas compressors from a single source. Single, double and tandem versions and tandem seals with intermedia labyrinths. Rugged, non-wearing, non-contact seals designed to deliver outstanding performance and long service life. Centrifugal compressors Expanders Turbines Integrally geared compressors Screw compressors Roots compressors Special machinesSeal Supply Systems Depending on the design, application and mode of operation, supply systems are needed to flush, cool and pressurize mechanical seals and magnetic couplings and provide leakage compensation. EagleBurgmann supplies a complete range of solutions from a single source including design, production, commissioning and service. The portfolio includes a complete line of API compliant supply systems. Liquid and gas lubricated mechanical seals Magnetic couplings
EagleBurgmann Australasia
With over 45 years of experience in the expansion joint business, KE-Burgmann / EagleBurgmann is one of the most experienced and innovative expansion joint manufacturers on the market within the field of fabric, metal and rubber expansion joints. KE-Burgmann is represented worldwide by subsidiaries, partners and agents.The KE-Burgmann Group is a proud member of the International EagleBurgmann Group and the Freudenberg Group, one of the largest manufacturers of mechanical seals, gas lubricated mechanical seals, seal supply systems, magnetic couplings, stuffing box packings and static seals.Expansion Joints Standard or customised expansion joints are flexible connections made of fabric, metal or rubber, which are installed in piping and ducting systems to accommodate thermal expansion, and/or vibration caused by changes in temperature, pressure, media and misalignment.Fabric Expansion Joints KE® fabric joints take up movements in several directions simultaneously and have almost no reactive force. They need little space for installation and are easy to adapt to physical conditions. The choice of the right fabric expansion joint depends on a variety of factors such as: Dimensions: According to specification Temperature Range:-65 0C - +1200 0C (-85 0F – 2200 0F) Pressure: From -35 to 35 kPag (from -5 to 5 psi)Metal Expansion Joints KE-Burgmann offers a full range of Bredan® and EJS® metal expansion joints from round and rectangular ducting expansion joints to highly engineered and complex FCCU parts. EagleBurgmann have a long history of welding and forming of stainless steel, Incoloy®, Inconel®, Hastelloy®, titanium, special materials and versions with PTFE.KE-Burgmann offers complete QA documentation packages to the latest industry standards. Dimensions: From DN15 (1/2") - DN5000 (200") Temperature Range: From -200 0C (-325 0F) up to 1400 0C (2500 0F) Pressure: Full vacuum up to 14.000 kPag (2,000 psi)Rubber Expansion Joints The KE-Masterflex® high pressure rubber expansion joints or rubber bellows is made from different qualities of rubber material and PTFE. Multiple arch, conical, tapered, filled arch and rectangular rubber joints are available. Rubber connecters are designed to neutralise axial, lateral, and angular movements along with vibrations. Dimensions: DN20-DN3600 Temperature Range: From -40 0C (-40 0F) up to 160 0C (320 0F) Pressure: Full vacuum to 2.500 kPag (360 psi)Viton® is a registered trade mark of DuPont Dow Elastomers. Dimensions and temperature range depend on design and material selection.
Videos
Click thumbnail to watch video
EagleBurgmann Expansion Joint Solutions Corporate Profile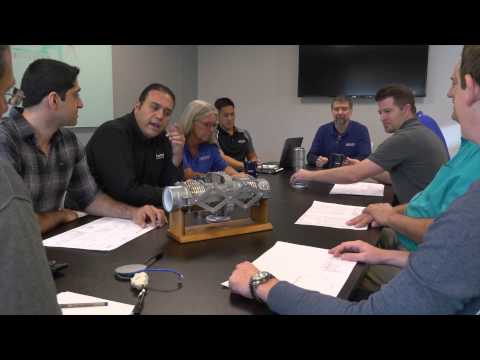 Contact EagleBurgmann Australasia
16 Stennett Road
Ingleburn
NSW 2565