ASSA ABLOY Entrance Systems Australia
ASSA ABLOY Entrance Systems supply a range of high speed Rapid Roll doors. These products efficiently control tempreature, dust, noise, wind and improve productivity. ASSA ABLOY Entrance Systems supply High Performance Doors are engineered to withstand even the harshest of environmental conditions. Made using strong, long-lasting fabrics, and durable steel and/or aluminum mechanical components Albany doors are built to last.

Contact ASSA ABLOY Entrance Systems Australia
Your Email
* indicates mandatory fields.
Videos
Click thumbnail to watch video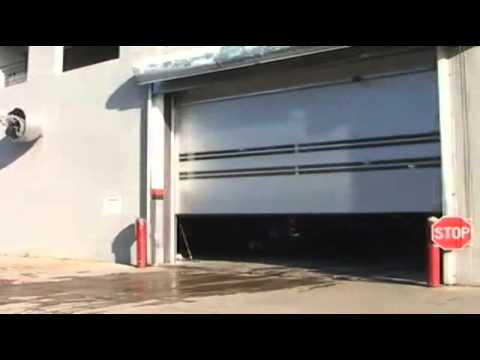 News
Supplier news
12/06/15
- Assa Abloy Entrance Systems (AAES) installed eight overhead sectional doors at the entrance of the South Australian Metropolitan Fire Services' newly-built fire station in Salisbury, South Australia.AAES brand Crawford's fully-glazed 242 overhead sectional doors were installed at the state-of-the-art facility's four-bay appliance room. This particular model was selected for its certified wind-loading capacity, tight-sealing quality, high safety, easy operation, and noise reduction features. One of AAES' most versatile door solutions, the fully-glazed Crawford door also allows entry of natural light into the fire station. AAES' overhead sectional doors deliver several advantages to the application environment. Designed to utilise space wisely, the door slides up under the roofline, freeing space in and around the door opening. This is an excellent option for buildings such as emergency-service stations where safety and reliability are primary concerns. Features such as a cable-break device, a bottom-safety edge and photo cells reverse the motion of the door when the doorline is obstructed, thus preventing accidents. In the event of a block-out, the door can be chain-operated. Traffic lights near the door assist with free flow of traffic.The glazed sections are fitted in extruded, anodised or painted aluminium. A pass door can also be integrated within or installed next to the overhead door to separate pedestrian and vehicle traffic, ensuring safety.
Contact ASSA ABLOY Entrance Systems Australia
Unit 2
17 Stanton Road
Seven Hills
NSW 2147
Tel: 02 9756 4330
Fax: 02 97564340
ASSA ABLOY Entrance Systems Australia Brands
Nomafa
Swing Flex
Swing View